Have you heard about the Bird Personality Test? It's a simple yet effective test. By this, you can understand yourself and others better.
So, it's a fun and useful activity.
All of us are different. Some people tend to be bossy. Others are quite modest. Some have excellent logical skills. While others are emotion-driven.
Find it out. With the BIRD personality test.
'Until you make the unconscious conscious, it will direct your life and you will call it fate'

– Carl Jung
This can bring a difference in your life. So, go ahead.
Bird Personality Test Infographic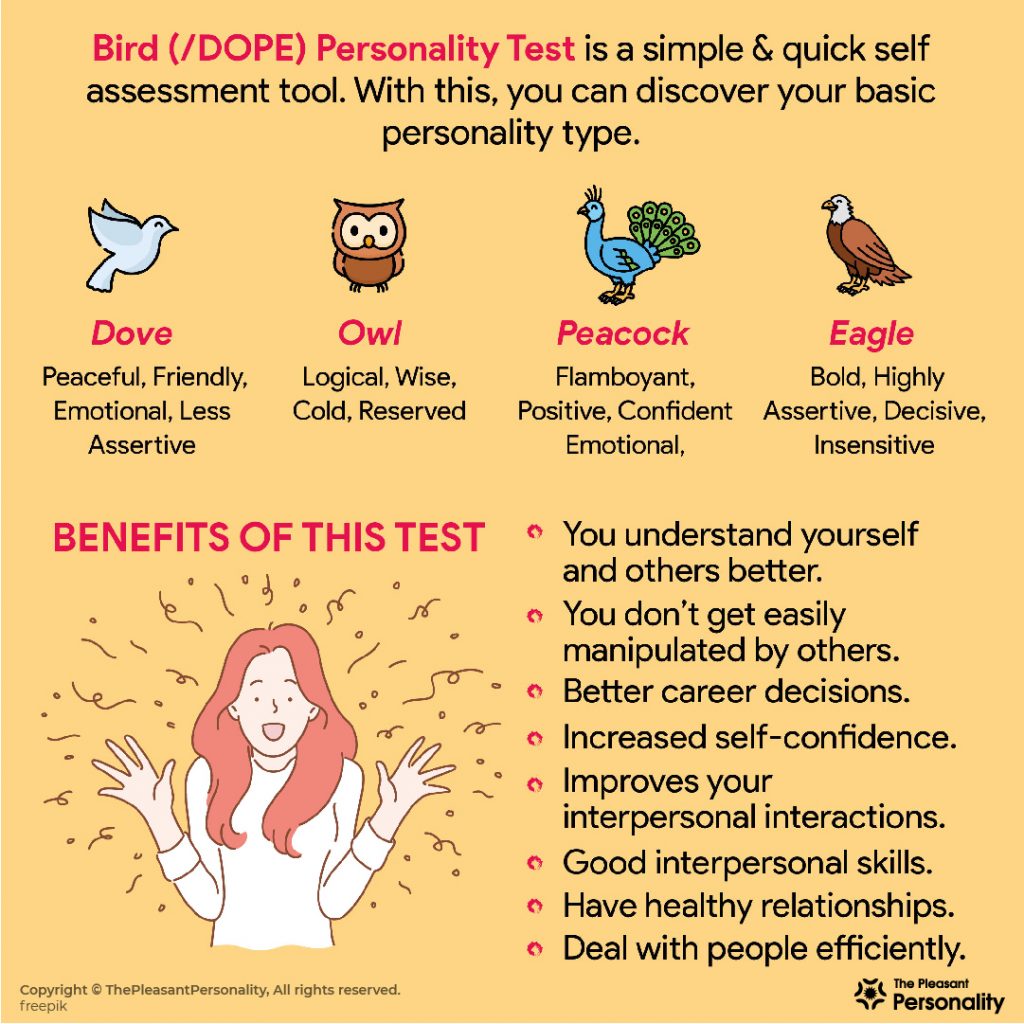 What is Bird Personality Test?
---
Bird Personality Test is a simple and quick self- assessment tool. With this, you can discover your basic personality type. It is also called as "Bird Test"
The test includes four personality types. These are four birds – dove, owl, peacock, eagle.
In this test, you just have to –
Answer a set of Multiple Choice type questions.
Choose the apt one from the choices.
Get the results. It will give you an insight into your dominant bird personality type. With the other recessive ones.
Richard N. Stephenson created this personality test. Based on Dr. Gary Couture's original four personality types test.
It is also known as the DISC personality test.
Dominant like Eagle.
Influence like Peacock.
Steady like Dove.
Compliant like Owl.
TAKE OUR FREE PERSONALITY TESTS
Evaluate yourself with our personality tests that are clinically approved by Certified Psychiatrist and draw a path to successful work life and happy relationships.
DOPE Bird Personality Test Or Dope Personality Test
These birds represent various human personalities. So, this test shows these basic traits. It depends upon basic needs. Desires. Emotions. Communication pattern. And characteristics.
---
As it is already known, 'DOPE' stands for 'dove, owl, peacock, eagle'.
Each bird symbolizes some human behavioral patterns.
Parts of DOPE Bird Personality Test
The four birds showing different personality types are –
BIRD PERSONALITY TYPE
CHARACTERISTICS
HOW TO DEAL WITH THEM?
Dove
Compassionate
Positive
Less assertive
Emotional
Team players
Natural Healers
Be relaxed and compassionate.
Move systematically.
Don't rush.
Show your affirmation.
Owl
Logical
Wise
Cold
Reserved
Data-driven
Systematic
Be logical.
Systematic. Precise.
Try to be goal-focused.
Don't get irritated with so many questions.
Use more proof.
Like, stats, reports, etc.
Peacock
Flamboyant
Positive
Emotional
Extrovert
Confident
People-oriented
Be friendly.
Response openly.
Show your interest.
Be helpful.
Compliment them.
Avoid direct conflict.
Instead, show the pros of your idea.
Eagle
Bold
Highly assertive
Decisive
Ambitious
Insensitive to other people
Natural achievers
Be goal-oriented.
Consider the end results.
Avoid arguments.
Stay well organized.
Also, well informed.
Better to agree with them.
Although, every person is unique. But there are certain common characters. These differentiate at the broader level.
We need to deal with everyone. Including our inner selves. Hence, it is better to understand people's personality types.
So, you might have got your stronger instinct. Even before the test!
Thus, the DOPE Bird Personality test is quite easy.
Examples of DOPE Bird Personality Test
---
You can easily spot it around you. Some daily life examples to identify these bird types are –
Dove
Think about your 'good heart' friend. She is always kind to everyone. Also, warm and sympathetic.
In low times, you seek her advice. She seems best at it. As she is a great listener. So, she understands others. Also, she is like a natural healer.
Owl
Your colleague who handles data best. He is always organized in his works. Also, he prefers methodical and analytical ways.
He randomly gives statistical examples. Takes everything with a logical insight. Also, he often sticks to his point in hot debates.
Peacock
The social butterfly friend of yours. One who boasts many followers in social media platforms. He knows almost everyone in the circle.
Also, he is good in the sense of fashion. He is a good marketer. And generally prefers cheerful chats.
Eagle
Maybe your bossy cousin. She is always quite bold. Her ways are naturally dominant and decisive.
She always gives hard competition. Also, she is quite ambitious. She has an instinct like natural achievers. You can see her working hard and compelling others to do so.
So, we can identify the dominant bird. Also, the recessive ones. These combine. And make your personality.
Nature of DOPE Bird Personality Test
---
This test is a self- assessment tool. Unlike other personality types tests, it does not need complicated psychological assessments. Take it as a way to self – improvement.
Everyone has a unique behavioral pattern. This pattern is specifically observed. Then this test is created. We can connect ourselves with these birds.
In this test, you can –
Recognize basic patterns.
Analyze your behavior.
Identify your dominant type.
Understand the behavior. Yours and others.
NOTE
Bird personality test is not a psychological evaluation. It does not provide a diagnosis.
However, it is a simple assessment method. A simple personality types test. And successfully tried upon many people worldwide.
Why 'bird' in the Bird Personality Test?
---
There are many reasons to use 'bird' in the test.
There are tons of personality assessment tests available online. Most of these are really complicated. Also, you need professional help to get it.
Not all of us are well in terms of psychological theories. So, this test is simple, easy and fun.
Here are the basic reasons:
You can easily relate to the birds – Every bird assigns some traits. So, it is easy to relate to these birds.
You are familiar with these birds – So, you don't get overwhelmed. You can easily connect yourself with these simple birds.
Easy to remember – You don't get confused with complicated jargon. Dove, Owl, Peacock, and Eagle are well-known names.
To keep things simple – This test is for everyone. So, it is better to keep it simple.
You may want to know your personality type. But don't want to get stuck in sophisticated terms. This makes it better.
It is fun – We want to learn about human nature. At the same time, we need fun. The inclusion of 'birds' makes it a fun activity.
Benefits of Bird Test
If one does not understand a person, one tends to regard him as a fool.

– Carl Jung
This test is quite famous worldwide. It is because of its ease. Also, it is efficient in most of the cases.
It can be used by –
One who wants to grow in life. Thus, willing for self- assessment, and improvement.
Health care and wellness centers.
Smart corporate organizations.
Educational institutes.
Career and Life coaches. Etc.
Thus, it can be really beneficial. Be it personal front. Or, professional level.
Here are some benefits of Bird Personality Test.
Personal benefits of Bird Test
You understand yourself and others better.
Increased self-confidence.
Higher motivation level.
Good intra-personal skills. You can help people to understand points better.
You don't get easily manipulated by others.
Improve your interpersonal interactions with others.
You can learn their preferred way of communication.
Also, you can understand the behavior of yourself. As well as others.
Have healthy relationships.
Better conflict resolution.
You get aware of their own instinctual responses to the conflict to end approach right.
Professional benefits of Bird Test
You can make better career decisions.
Deal with people efficiently.
Learn their preferred working way.
Have good professional relationships.
You can identify the traits of your colleagues or boss.
You can also know their preferred way of making decisions to predict it correctly.
Maintain a good inter-personal relation pattern.
You will also learn their own instinctual responses to conflict.
Fully utilize your innate traits or strengths.
So, why are you less assertive? How to deal with your boss? And so on. You can solve the matters. For this, understand the basic personality types.
Conclusion
Knowing your own darkness is the best method for dealing with the darkness of other people.

– Carl Jung
We usually get confused with our decisions. Because we are unaware of our traits.
At this point, try the Bird Personality Test.
This test can help you in self- realization. Also, know others well. Understand the right way to deal with them.
Thus, it is a simple move. Still, enough to change the direction of your life. From unknown to known. Dark to light.
Article Sources
---
1. https://www.powerofpositivity.com/bird-personality-reveal/
2. https://birdpersonality.com/
We get little commissions for purchases made through links in this post. Our editors carefully choose to promote only those products/services that resonate with our readers.