Key Takeaways
---
While Type A is the most ambitious, and the B types are Balanced, Type C is Creative, and D types are Distressed.
Among all the personality types, only Type B is extroverted. Rest all suffer from emotional build up as they are introverts.
The A types are punctual at the workplace, type B is laid back, C types are perfectionists, and type D is hardworking.
Type B personality is flexible, fun-loving, and ready to take risks. Rest all of them resist changes and avoid risks.
While Type Bs are most careless towards health, Type Cs are prone to cancer, and Type As are prone to cardiac diseases.
---
Personality types A B C D comprise four different types of personalities. Each type is different and unique in its own way.
Yes, the personality types might share some common traits but as a whole, they are distinct from one another and easily identifiable.
The personality types have been invented and categorized based on various types of research, performed by experts. While personality types F, G, and H also exist, the majority of people have been grouped under the personality types ABCD.
The initials of each of these personality types match with one or more dominant traits that they possess.
For example,
A = Achievers
B = Balanced
C = Creative
D = Distressed
But to know more about all the four personality types, you know what you need to do: keep scrolling and keep reading!
Personality Types A B C D Infographic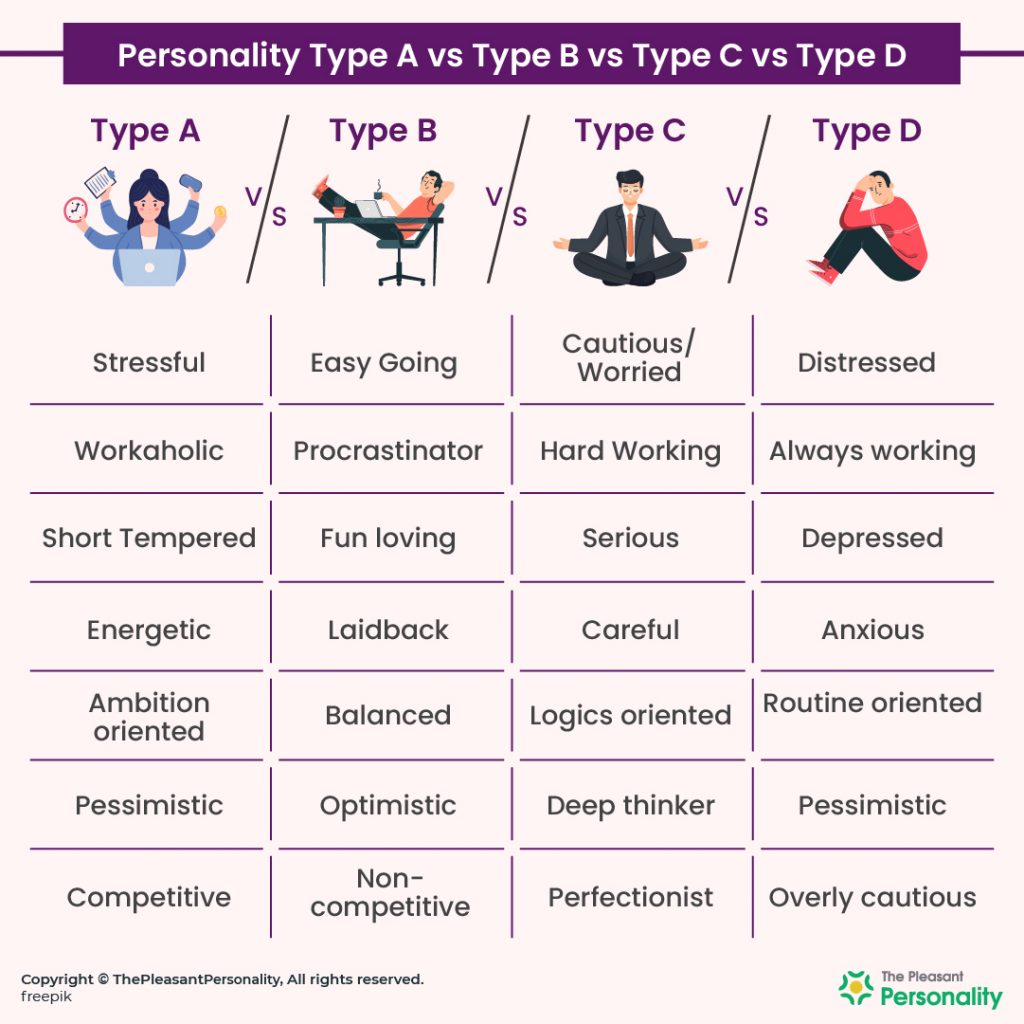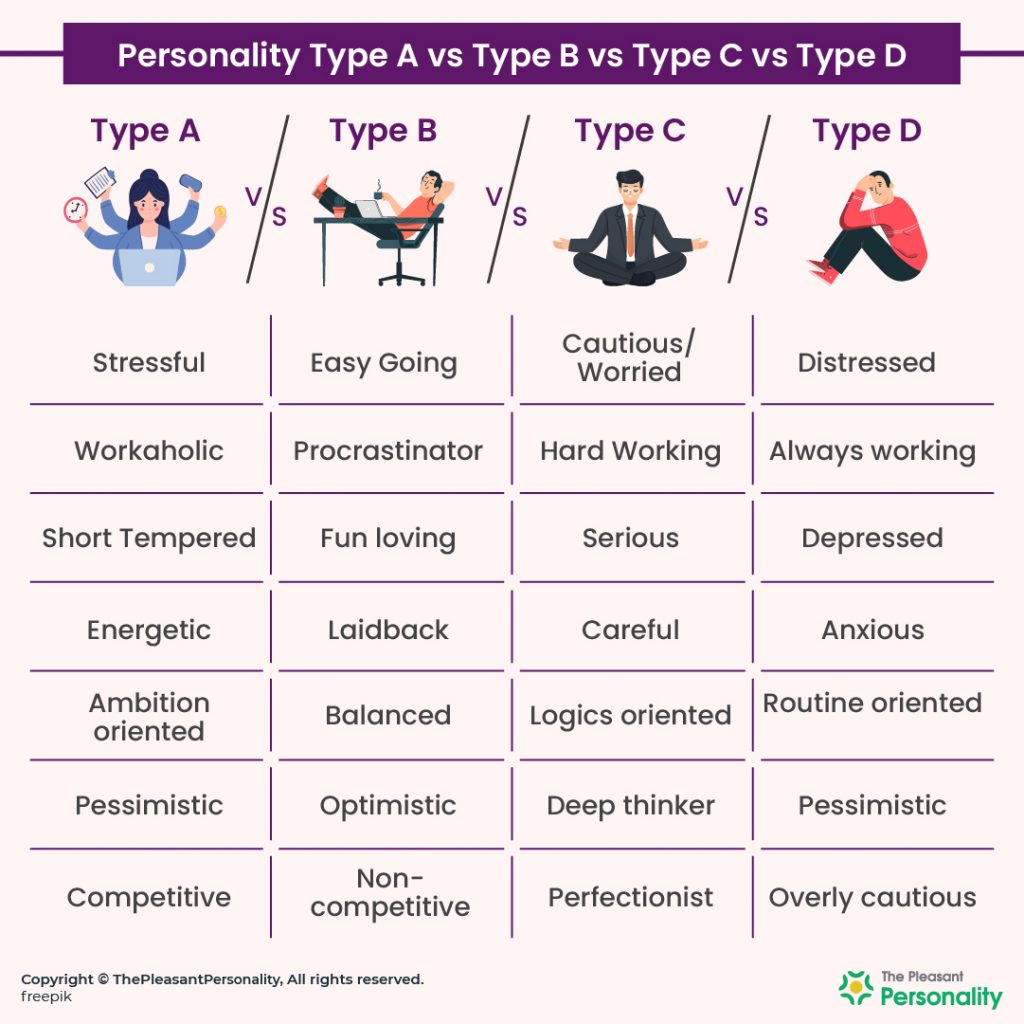 What Are The 4 Personality Types?
SUMMARY
The four personality types are A, B, C and D each defined with unique character traits, strengths and weaknesses.
There are four categories of personalities that have been given various names and designations. But in general, they are defined under Type A, B, C, and D personalities. Every person is a unique blend of these 4 personality types.
A type of personality is very ambitious in nature. The 'A' stands for 'ambitious and achieving' nature of A type personalities. They are workaholics and work really hard to achieve their goals. However, in order to achieve a lot, they keep themselves under constant pressure which makes their life stressful. As a result, they develop a higher risk of cardiac diseases.
The B type personality is almost the opposite of Type A. B type people are most relaxed and laid back in their attitude. They have a tendency to procrastinate until the last minute. However, they are friendly, charming, positive, and balanced in their lives. B type personalities generally don't get affected by stress.
The next category of personality type is the C type. C type personalities are logical and rational thinkers. They look into the details of every matter before jumping to the conclusions. C type personalities are creators and are often referred to as perfectionists.
D types of personalities are depressed types of personalities. The D stands for 'distressed'. These people dwell on negative aspects of life and stress themselves unnecessarily. As a result, their physical, as well as mental health, is always suffering. D types have to face a lot of challenges in their personal life.
This was just a brief, now let's dig into the details of each personality type.
TAKE OUR FREE PERSONALITY TESTS
Evaluate yourself with our personality tests that are clinically approved by Certified Psychiatrist and draw a path to successful work life and happy relationships.
Type A personality – The Go-Getter
SUMMARY
Type A personalities are punctual, ambitious, competitive, and they want to achieve everything in the world.
The type A people can be defined in a single word as "highflyer". They're hustlers and achievers. They're always likely to be the busy-bees.
A types strongly believe that time is the most precious resource and thus, they're always chasing it.
Type A people are ambitious and competitive. They have clear goals in life and they intend to achieve them all.
Due to their rational thinking and organized behavior, they don't fall into trouble. In fact, they are a lifesaver and solve other people's problems as well.
They can appear aggressive at times and are misinterpreted as "arrogant". But this is not the case. Type As tend to lose their patience when the tasks at hand are delayed for factors not in their control. They have a lower tolerance level for incompetence and procrastination.
A-types are best if you're looking for some inspiration and motivation. They are constantly looking for opportunities and are not afraid of moving out of their comfort zone.
They believe that to achieve better things in life, you need to be decisive. You can't always wait and seek approval or permission, sometimes you need to make the decision yourself.
Type A people are extremely influential and can help you reignite self-belief. They can also help you identify new skills that can help you achieve greater things.
Further, they also possess social skills and are often the crowd's favorite.
This was the introduction. Let me give you a quick sneak-peek into the Type A characteristics.
Type A Personality Characteristics
Understanding characteristics of type A personality will help you compare your own personality with this type and recognize whether or not you belong to this group of overachievers.
Besides, it will also help you understand the type A personality and learn how to tackle them.
1. Type A people are always multitasking; they can do several things at a time. This is partly because of their over-ambitious nature. These people are proactive and organized in their work.
2. Type A people have a habit of creating strict deadlines and sticking to them. It gives them mental satisfaction and confidence. This is also because the A types swear by punctuality and they hate being late.
3. A types are workaholics; they often bite a lot more than they can chew.
4. They are extremely sensitive individuals and are sympathetic towards others' needs. They have a caring and friendly nature, always willing to help others.
5. A type of people very often suffer from coronary heart diseases. Doctors blame it on their habit of taking stress at work.
Other than this, Type A's are also aggressive, determined, strong-willed, and ambitious.
If you're one of them, you really need to calm down and learn to enjoy life, instead of always chasing something.
Traits aren't enough to know A personality deeply. So here are a few…
Pros and Cons of Type A Personality
Unlike popular belief, Type As are not ALL BAD. There's a list of good in them too. Here's a quick sneak-peek into both.
| | |
| --- | --- |
| Pros | Cons |
| Multitasker | Lack patience |
| Goal-Driven | Stressed |
| Energetic | Anxious |
| Perfectionist | Workaholic |
| Competitive | Get easily Overwhelmed |
| Sensitive | Competitive |
| Practical | Dissatisfied mostly |
| Successful | Overachiever |
Now, it's time to move on to the next Personality Type: Type B!
Type B personality – The Relaxed Extroverts
SUMMARY
Type B personalities are peaceful and fun-loving people who don't stress out easily. They have a loving nature and are great at socializing.
Type B people tend to be very calm in comparison to Type As. They have a composed nature inside-out. You will feel truly warm and relaxed around them.
They're not highflyers like type A, but if you ever look at them or observe their lifestyle, you'll want to adopt it because they live an extremely simple yet soothing life.
Type B people are neither chaotic nor do they have any kind of anger issues. In fact, they also try to maintain distance from people who disturb their mental peace.
Most people like to be around type Bs as they don't get irritated easily; it takes a lot for them to react violently. They know how to deal with people and use their words extremely wisely during a conversation.
Type B personalities can really make you feel connected to them. They are great at reading other people's sentiments and minds. Not only that, the B types are also seen supporting their close ones in times of need.
The best part is that they also know how to take care of themselves and so they're not dependent on anyone else for emotional support.
These wonderful people don't like to show off even after achieving everything. They're so down-to-earth that they wouldn't even mind sharing the credit.
After this brief introduction, it's time to look into the characteristics of Type B personalities.
Type B Personality Characteristics
Type B personalities are generally known for their sensibility, understanding, and procrastination. Let's see what else they have in store.
1. Type B people cherish every small accomplishment. They enjoy the journey and not just the goal.
2. Type B personalities are rarely stressed. You won't find them arguing frequently.
3. B Type people are extremely patient and content with whatever they have. They don't bother about material losses and understand that winning and losing are both a part of life. They plan for the best but in cases, the plans don't materialize as expected, they don't freak out.
4. B Types are extremely adjusting, and can easily adapt to new changes. They have a flexible personalities and are extremely welcoming towards innovative changes.
5. B type personalities are extremely good with people. This is because they don't judge other types of personalities and know how to accept different viewpoints.
Other than this, Type B personalities are famous procrastinators. They enjoy life and refuse to chase deadlines in lieu of achieving goals.
This relaxed and laid-back attitude has also gained them a lot of criticism and trouble.
So, now that you are intrigued to meet such an interesting personality, let's find out a few pros and cons of a B personality type.
Pros and Cons of Type B Personality
No, procrastination is not the only weakness of B-type, there are several others too along with a lot of strengths. Here's a quick sneak-peek into it.
| | |
| --- | --- |
| Pros | Cons |
| Realistic | Complacent |
| Adaptable | Procrastinator |
| Accepting | Indulgent |
| Easy Going | Lacks Motivation |
| Relaxed attitude | – |
| Tolerant | – |
| Patient | – |
| Innovative | – |
| Charismatic | – |
| Adjusting | – |
| Uncompetitive | – |
| Positive | – |
| Good Friend | – |
The next personality type that we are going to learn about is type C.
Type C personality – The Perfectionist
SUMMARY
Type C people are practical, perfectionist, and creative. They are sensitive individuals and try to help others with all their might. These people love to live an organized and chaos-free life.
Type C people are extremely rational beings. They tend to be perfectionists and are often confused with type As. But the distinctions amidst the two can be easily identified, provided you're careful enough to observe the tiny details.
Type Cs may not be as interactive as extroverts but they're also not introverts, they just like spending time alone.
They're more inclined towards living a regular routine and an organized lifestyle. They're more obsessed with a balanced and stable life.
They disapprove of unnecessary chaos or rush to achieve goals earlier than expected. Type C people are the best if you need help in a state of emergency.
As they're very organized, you can rely on them to help you walk out of possible dangers. Type Cs often put others' needs before their own, which they might even regret later, but they do it anyway.
They're mostly found serving high-ranked professions, like scientists, accountants, and even pilots. If you're around them, they've always got your back.
Now that you know what Type C is, let's look into the characteristics for a detailed understanding.
Type C Personality Characteristics
Type Cs are not just about "perfectionism", there's a lot more to them, including.
1. The first thing that you get to read about type C people is that they are perfectionists. They swear by rules and regulations and always want to be accurate with whatever they do. A C-type invests all that they have to be able to produce extraordinary results.
2. C Types are poor at expressing their emotions which is why they are often perceived as people with high boundaries.
3. Type C personality people stay away from disputes and unnecessary debates; they don't like chaos and an unruly situation around them.
4. They take time to get into the crux of a certain situation before responding to it. This is why they are often called detail-oriented. No matter how much labor and time it costs them to find out the details, they will still make sure to know everything before reaching a conclusion.
5. The C-types are a creative and intellectual group of people. They have the ability to think out-of-the-box and create something unique and meaningful.
Other than that, C Types are extremely focused on their work and it is very difficult to distract them.
They never leave a task incomplete or do it half-heartedly. C types that their efforts deliver a meaningful output.
Now let's quickly skim through the pros and cons of a type C personality.
Pros and Cons of Type C Personality
If you've yourself identified yourself to eb a C Type, I'm sure you want to know more. Well, even if you haven't, you must still know about the pros and cons of being around a C Type.
| | |
| --- | --- |
| Pros | Cons |
| Patient | Perfectionist |
| Deep thinker | Dissatisfied |
| Perfectionist | Stressed |
| Consistent | Serious |
| Intelligent | Emotionally-repressed |
| Reliable | Unassertive |
| Detail-oriented | – |
| Creative | – |
| Reliable | – |
And, the last personality Type is Type D Personality.
Type D personality – The Distressed
SUMMARY
The "D" in D Type personality stands for "distressed". They take a lot of stress in their daily life and always prepare themselves for the worst.
Last but not the least, D Types are quite the depressive ones. They might seem peaceful on the surface but are very chaotic from the inside.
Even in situations where optimism is profound, people with this personality find something pessimistic to dwell upon.
They might seem tough but in reality, they're very delicate and sensitive. They're not aware of their own emotional troubles and try to justify them.
They look like type Bs, but rather than being peaceful they're more anxious and interpret everything as a personal attack.
D Types often feel secluded and lonely, even though they might show just the opposite from the outside.
Type Ds are extremely resilient and offer great advice. This means if you're a close friend of D-Type, you are lucky!
Type Bs may be calm but they don't have a sense of wisdom, unlike Type Ds. As the saying goes you need to go through the fire to know how hot it is – the same is the case with Type Ds.
They have been through so many ups and downs in life that it makes them more experienced and sensible than most others.
You can never understand a personality entirely, not until you know their personality traits. So, here are a few characteristic traits of the Type Ds.
Type D Personality Characteristics
D type personalities don't have deep thinking abilities like C type. They rather dwell on pessimistic aspects of life. Below, We have compiled some prominent characteristics of this personality type. Let's dig in.
1. D type personalities always look for security. Even if they have to repeat a certain task every day, they would be fine doing the same job. They won't switch their job for years just to avoid changes and security risks.
2. Type D people are very compassionate towards others and they have a great understanding of others' feelings, emotions, problems, and desires. You can always turn to them when you are looking for emotional support.
3. None of us can deny that D Types are the most pessimistic personality type. They have a habit of analyzing every situation from a negative point of view. They always expect the worst to happen. This habit leads to depression and anxiety.
4. D type personalities avoid social interactions as much as they can. They are said to be a socially inhibited group of people.
5. The D type people are extremely sincere in performing their duty. They don't take careless risks and rush decisions. In fact, they prepare themselves for the worst situations beforehand.
However, D type personalities remain depressed and bottle up their own feelings of anxiety.
The fear of facing unfair judgment and humiliation keeps them away from expressing their honest emotions.
But wait, you can't draw conclusions unless you have a summary of the pros and cons of a D type personality.
Pros and Cons of Type D Personality
Even though they are found depressed most times, they still have good in them, Here's a quick glance into both: the good and the bad.
| | |
| --- | --- |
| Pros | Cons |
| Routine oriented | Obsessed with routine |
| Thoughtful | Overthinking |
| Cautious | Overly cautious |
| Prepares for the worst | Anti-social |
| – | Pessimistic |
| – | Depressed |
Now that you know each type in detail, let's quickly summarize it.
Type A vs Type B vs Type C vs Type D
Often it gets really overwhelming to differentiate one personality type from another. At those times, this table will be your rescue.
| | | | |
| --- | --- | --- | --- |
| Type A | Type B | Type C | Type D |
| Stressful | Easy Going | Cautious/ Worried | Distressed |
| Workaholic | Procrastinator | Hard Working | Always working |
| Short Tempered | Fun-loving | Serious | Depressed |
| Energetic | Laidback | Careful | Anxious |
| Prone to heart diseases | Not prone to heart diseases | Prone to cancer | Prone to high blood pressure and heart diseases. |
| Likes changes | Flexible | Doesn't like changes that disturb their plans. | Fear changes. |
| Emotionally stressed | Share their feelings | Suppress their feelings | Emotionally repressed |
| Ambition oriented | Balanced | Logics oriented | Routine oriented |
| Pessimistic | Optimistic | Deep thinker | Pessimistic |
| Competitive | Non-competitive | Perfectionist | Overly cautious |
A-Type personalities: They are workaholics and stressful in nature. They are achievers and ambitious but pessimistic in their thought process.
B-Type personalities: Unlike the A types, B types are easy-going and laid back. They are the biggest procrastinators. However, B types are fun-loving and extremely optimistic people.
C-Type personalities: C types are creative but they are also perfectionists. They have a rational thinking process and are very intellectual. They work hard to get into the details of crucial matters.
D-Type personalities: The D types are distressed. They view life from a negative and lifeless angle. D types live an anxious life and never express their emotions.
After knowing the unique differences in each of these personality types, wouldn't you want to know if the personality types are permanent?
Are the A B C D personality types permanent?
There are A, B, C, and D types of personalities. Our personality is primarily based on the life experiences, opinions, ideas, and approaches we have towards life.
Since the experiences tend to grow throughout our lives, it may also bring a change in our personality over time. One's perception of the world changes with the experiences. Ultimately, this shift creates a shift in their personality too.
It's not that the change in personality is entirely a reflex action. Your conscious actions also lead to changes in personality.
Suppose, if you are tired of dealing with a stressful relationship, then you make conscious efforts to finally take a break from it… and come back to a more optimistic lifestyle.
On the flip side, some people may have also tried to change their personality type mindfully, only to see their attempts failing.
Well, it's not just about your habits. Mental health, physical health and a lot of underlying issues impact your personality type. Thus, more than changing your personality, focus on improving it.
Focus on your strengths, identify your weaknesses and work on them. Self-introspection will help you understand why you act a certain way in a given condition.
It will also help you recognize your hidden potential and finally achieve the desired success.
But if you can't, don't punish yourself for it. Instead, embrace who you are and be proud of it – remember, acceptance is even more important than improvement.
Do you want to know why? Your answer is right beneath.
Learn to embrace who you are – Type A B C or D
You should never let personality differences create barriers in your mind. This society is made up of humans with diverse personalities and they are all unique in their own ways.
Though we're all neurodiverse, you can always try to become neurotypical. It might be hard for you to adjust to a completely different group of people, but you can always find your type. As you know, "your vibe attracts your tribe."
As far as embracing your personality is concerned, we all are born unique, and it is only you who can be you. Life is too short to judge others and yourself.
Instead, you should take pride in who you are as long as you are not morally incorrect.
In the end, what matters is that when you look in the mirror, you can tell yourself that you've led your life with pure intentions.
No matter what your personality type is, you should always look for ways in which you can improve your personality, take out some time for yourself and do things that you always wanted to do.
Alright, so if you're reading until here, we definitely can't let you go without some bonus.
Yes, you read that right – Bonus.
Did you know there's one more personality type: X Personality Type?
Surprised? Don't be. Just keep reading.
Bonus: What is Type X Personality?
There are two ways in which you can define the X personality type.
The first way is when an individual has two or more personalities and each type is in equal ratio to the other – such personalities are often identified as Ax/Bx types.
Now, you might be thinking about what does this "x" means. This "x" simply means an intersection between two entirely different personality types.
The second one, although extremely rare, few people are also found to have all the four personality types balanced. So, these people are also called the X Personality type.
The special thing about type X personalities is that they are very adjustable to changing situations. These people are often referred to as having chameleon-like tendencies.
The only drawback of this personality type is that such people become very unpredictable and their decisions are a little uncertain.
If you want to recognize your own personality type and identify which group you belong to – A, B, C or D – then keep reading.
How to identify if you are Type A, B, C or D?
There are two ways in which you can identify your personality type – either read about it online and relate it to yourself or take a few personality tests.
1. Read about Personality Types
If you're wondering how you can identify your own personality type just by reading, here's a step-by-step process to guide you through it.
Step 1: Read about the traits, strengths, weaknesses, physical health, mental health, workplace, and relationship habits of all the personality types in detail.
Step 2: Try to match your own characteristics with these personality types.
Step 3: Shortlist any one or two personality types that you relate to the most.
Step 4: If maximum characteristics of your nature match with A type personality, then it means you are an A type. On the other hand, if a few characteristics of your personality match with Type A and a few others match with Type D, then you are a mixture of type A and D.
2. Take Personality Tests
Now let's look at some tests that can help you recognize our personality type. These Personality tests can be taken either online (recommended from their official website) or with the help of a pen and paper.
1. Myers-Briggs Personality Test
Myers-Briggs personality test has 16 categories and it comprises of 4 dichotomies with four-letter combinations:
Extroversion (E) vs. Introversion (I)
Judging (J) vs. Perceiving (P)
You are provided with a set of questions and once you have answered questions in the test you will be given a four-letter acronym each with a percentage that will determine your personality type. For example: TJFI, 50% Thinking, 25% judgemental, 10% Feeling, 15% Introversion.
2. Keirsey Temperament Sorter (KTS)
KTS works on temperament and not the functions of a person. Unlike Myers Briggs test, this test focuses more on sensing and intuition. Myers Briggs test focuses on extraversion and introversion dichotomy according to Jung. In a nutshell, KTS tests evaluate people on their behavior and not on their feelings.
Other than these two, here are a few more personality tests each with different names to personality types A, B, C or D.
| | | | | |
| --- | --- | --- | --- | --- |
| Personality Tests | Type A | Type B | Type C | Type D |
| Plato | Guardian | Artisan | Scientist | Philosopher |
| Jung | Sensor | Intuitor | Thinker | Feeler |
| DISC | D;Direct/Controlling | I; Direct/Supporting | C;indirect/controlling | S; indirect/Supporting |
| Insight | Blue | Green | Gold | Orange |
| Enneagram | Adventurer/Achiever | Helper/Romantic | Asserter/Perfectionist | Peacemaker/Observer |
A word from The Pleasant Personality
Even though there are different identifiable personality types, one thing still remains constant: People behave differently in different situations or occasions.
While a person might exhibit Type C behavior in relationships, he/she might have Type D behavior at the workplace.
Humans are unpredictable… and understanding your personality type is not enough. So, dig deep and be mindful of how you are behaving in different surroundings along with your intentions at the time.
Make note of it and then try to study your personality in detail. If you're deeply committed to it, you can also seek help from a psychologist or personality expert.
Remember, you cannot change something for the better unless you are aware of the positives and the negatives of the change.
We get little commissions for purchases made through links in this post. Our editors carefully choose to promote only those products/services that resonate with our readers.